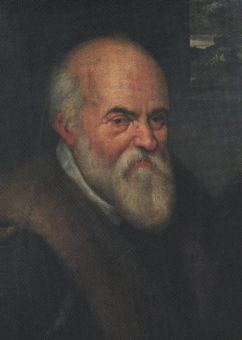 Fig. 1: Portrait of Ulisse Aldrovandi.
(Credit: Quadreria dell'Università degli Studi di Bologna)
Ulisse Aldrovandi was a naturalist of encylopaedic proportions, the creator of one of the first ever natural history museums, a scholar of the diversities of the living world and an explorer, who established himself as one of the most important scientific figures from the late 1500s to the first decades of the 1600. He is also considered a guide and reference point for modern-day Italian naturalists. His impressive collections are still together today, for the most part in the Aldrovandi Museum in Palazzo Poggi, part of Bologna University.

Aldrovandi was born in Bologna on 11 September 1522 into a noble family, and right from being a young boy he was very curious and eager to learn. So much so that, aged only 12, "senza saputa de' suoi, si partì senza denari, con animo ardito et giunse a Roma" ("without telling his family, he left without money but with a bold soul, and arrived in Rome"). This was the first of many trips he made during his adolescence. His longest was a pilgrimage before the age of 17 to Santiago di Compostela and on to S. Maria in Finibus terrae, the place which was believed to mark the end of Europe. When he returned from this trip his family convinced him to begin regular studies. He spent seven years studying humanities and law but, when he had almost completed his education, he suddenly became fascinated by logic, philosophy and medicine. He therefore began to study these subjects at Bologna and Padua Universities, graduating in philosophy and medicine in 1553, at the age of 31, after seven more years of study.